About Me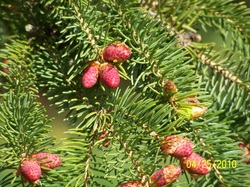 My name is Lucy and I'm relatively new to the art scene. Born and raised in Moscow Russia I have lived in Vienna, Austria, Rome, Italy and for much of the most recent 20 years in Chicago before coming to Washington County NY two years ago.

I always had an interest in all art forms, inspired initially by the rich and vibrant Russian culture of my youth. My time in Washington County was my first experience at country living and the unique nature of the beautiful area released a long held desire to express myself creatively.

As a result, my initial training in the art of Stained Glass evolved into mixed media sculptural expressions of surrounding tranquility. Incorporating base metal wire, glass and crystal beads, and natural stone I create trees and flowers sculptures that may resemble ones found in nature or an abstract splash of shapes and colors.


After living in cities my whole life coming to this beautiful country site has been such an inspiration. Anywhere you go, any turn you make presents a new, more fascinating scene than the last. The beauty of farm fields, orchards, streams and forest that surrounds my mountain home has made its way into my studio.

Thank You for visiting!


---